Latest News on Recipe for America
Susan G Reviews Recipe for America on DailyKos
posted by Jill Richardson 2009-09-07 23:26:43
Susan G posted a review of Recipe for America on DailyKos. Here's an excerpt of what she had to say:

"Richardson, who first discovered her talent for writing about food issues here at Daily Kos as OrangeClouds115, has turned in a terrific book in Recipe for America, managing to organize into one smooth narrative information as disparate as employing undocumented workers and the lobbying that goes into the Farm Bill. Under her educated eye, the pieces of the enormous puzzle of legislation, policy, science and environmentalism are woven together in a book that can serve as an introduction to those unfamiliar with the sustainable food movement, while expanding the base of knowledge of those who've been reading on the topic for years.
"This is no small feat. Juggling the needs of newcomers to a topic without losing the interest of the already informed is a problem that many writers with many more books under their belt than Richardson have failed to solve."
permalink
Book Tour Dates + Buying Autographed Copies
posted by Jill Richardson 2009-06-15 10:28:01
I've added a new button to my blog (
La Vida Locavore
) to allow people to order autographed copies of the book. Would it be too early to note that they make great Christmas gifts?
If you want to catch me on tour, here are the plans so far:
December 1 - Chicago, IL at
Hull House's re-Thinking Soup
at 12-1:30pm
December 1 - Oak Park, IL at Borders Books at 7pm
Past events:
San Diego
Philadelphia
Lancaster, PA
New York City
Pittsburgh
Morrisville, VT
Rutland, VT
Bellows Falls, VT
Boston
Shelburne Falls, MA
Northampton, MA
Seattle
Tacoma
Duvall, WA
Portland, OR
Madison, WI
Des Moines, IA
Los Angeles
Austin, TX
Orange County, CA
If your city isn't on this list and you want me to visit, please contact me at OrangeClouds115 at gmail.
permalink
My Book is Available For Pre-Order
posted by Jill Richardson 2009-04-04 22:37:47
Great news! My book, Recipe for America: Why Our Food System is Broken and What We Can Do to Fix It, is ready for pre-order. You can buy it on Amazon, Powells, or Barnes & Noble.
permalink
A New Blog on Food
posted by Jill Richardson 2008-07-05 23:28:28
There's a new blog about food! Check out La Vida Locavore - a blog for anyone whose crazy life includes planting, growing, weeding, fertilizing, raising, picking, harvesting, processing, cooking, baking, making, serving, buying, selling, distributing, transporting, composting, organizing around, lobbying about, writing about, thinking about, talking about, playing with, and eating food!
permalink
The Dirt on Our Farms
posted by marrael 2006-12-26 10:03:44
Check out The Dirt on Our Farms at Tompaine.com.

permalink
More news from our favorite news sources!
La Vida Locavore
I have never liked mustard greens. Ever. The resulting bit of information comes courtesy of that fact. The thing I hate about them is that horseradish flavor they have.
A few weeks ago, in my Native American foods class, we cooked up mustard greens. They aren't traditional, strictly speaking, because they were introduced by the Spanish. But they grow everywhere, and at some point in the past few centuries, the Indians started eating them.
I wasn't even going to taste them, since I know I hate them. But the teacher of our class put them in a pot of water and brought it to a boil and then poured off the water three times. The resulting product had no horseradish taste.
Yes! I thought. Now I can eat this abundant wild food! But... does cooking it to death reduce its health value significantly?
As it turns out, it does. In fact, for people who hate the horseradish flavor, it's all very bad news.
All members of the cabbage family - mustard greens, broccoli, kale, radishes, etc - contain chemicals called glucosinolates. And, stored separately in their cells, they also have an enzyme called myrosinase. Neither of those taste like horseradish.
This setup is more or less a trap for would-be grazing animals. The animal bites and chews up a plant in the cabbage family and it breaks the plant's cell walls and mixes together the glucosinolates and the enzyme - plus their saliva. The enzyme turns the glucosinolates into hot, pungent (cancer-fighting) isothiocyanates. And the animal spits out the plant and thinks "That tastes god-awful, and I'm not eating it again!"
Yep, that worked on me perfectly. It's why I don't go around grazing on mustard greens.
If you don't want the horseradish taste, then you can kill or dull this chemical reaction. You can cook the plant in hot water or mix it with an acid (lemon juice, vinegar). Then you get to eat nice, gentle-tasting plants with glucosinolates instead of isothiocyanates. And... you lose that potent cancer-fighting property. Dang it!
I thought about how I eat plants in this family. I've got a batch of sauerkraut going - marinating in lactic acid created by the bacteria that are slowly digesting it. And I love eating raw kale salads, dressed with olive oil, juice of an acidic lemon, and sea salt. And, of course, I cook kale and other greens. But do I ever just sit down and eat this stuff raw without any acid? Not really.
I took a piece of kale out of the fridge and munched it raw, really making an effort to chew it up so that the chemical reaction could take place. Yikes, it's spicy!
Apparently, if you cook the plant in water, then some of the glucosinolates leach out into the water. Even if you just steam the plant, the heat might destroy the enzyme needed to make the chemical reaction happen. So raw is best.
I think my solution of choice might lie in another fact: the amount of a potent cancer-fighting glucosinolate in broccoli remains more or less constant as the plant goes from seed to mature plant. So if you eat broccoli sprouts, you are getting the cancer-fighting power of many entire broccoli plants all at once! And those taste OK if you eat them raw. Especially on a hummus sandwich.
In parts of Kenya, the breakfast was an unsatisfactory offering of white bread, margarine, and jam. Whatever Kenyans ate for breakfast for 99% of their history, that was not it.
In western Kenya, I stayed with a family who served a more traditional breakfast: uji. It was typically the only part of breakfast made entirely from native foods, in fact. And it's fermented, making it extremely healthy. Other breakfast foods included cassava and peanuts (introduced from the Americas) and tea with sugar (from Asia). The kids' favorite breakfast was mandazis, which are like donuts.
I'm not sure I'd apply the adjective "love" to the sour flavor of uji but I DO love that it's healthy and sustainable. I asked how to make it and I was so incredulous of the answer I received that I never tried - until now.
This week, I picked up the book Wild Fermentation by Sandor Katz. I've now got fermentation experiments all over my kitchen, and uji - which he calls ogi - is one of them. Here's how to make it.
Uji is made from millet, although you can also add corn or sorghum flours if you like. I had a bit of millet in the house and I didn't know what to do with it, so a batch of all-millet uji sounded like a good idea.
The thing is, American recipes usually don't involve setting your food out to rot and then eating it once random microbes move in. I've made yogurt, but to do that, I heated the milk to kill everything in it and poured in a mix of yogurt cultures. There was no mystery about which species of microbes went into my food.
But that's not what you do with uji. You grind about 2 cups of millet into flour and set it out in a container mixed with 4 cups of water. Cover the container with a cloth or towel to keep dust and flies out - and let microbes in!
And then, it just sits there. A few days later - voila! - uji!
When my Kenyan hosts explained this to me, I was incredulous. Surely, proper fermentation was more involved than that. Except it isn't.
Sandor Katz says you only need to let your uji ferment for 24 hours and you can let it go for up to a week, whereas Kenyan recipes I found online say it needs 2-4 days. A Kenyan friend told me that 3 days was proper. The longer it ferments, the more sour it gets.
After trying my uji on days one, two, and three, I think three days is the right answer, although two days was acceptable. If it's not sour, then it needs more time.
I set out a container with 2 cups of ground millet and 4 cups of water and let it sit. After one day, it looked no different. After two days, there was foam on top. After three days, the water in the container looked a bit brown. But it smelled and tasted like uji, and I'm not dead yet, so I guess that's OK.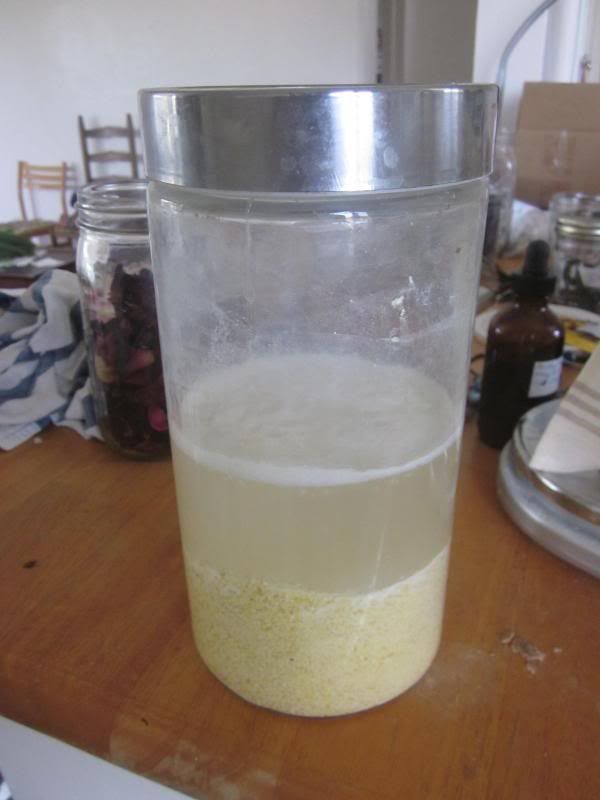 Uji with foam on top on day two. I used a sprouting jar as my container, so while it appears to have a metal lid, there's an open screen on top.
Recipe:
1. Bring half a cup of water to a boil.
2. Stir the uji mixture so that it becomes a relatively uniform mix of flour and water and add 2/3 cups of it per serving of uji to your pot on the stove.
3. Lower the heat and let it cook for 5-10 minutes. STIR CONSTANTLY or else it will stick to the bottom of the pot.
4. Add a bit of salt or sugar if you'd like. I added a little salt. I drank my uji unsweetened in Kenya, but some Kenyans have told me they sweeten theirs. The idea of sweet uji sounds a bit gross to me, but a little salt complemented the sour, buttery flavor of it.
5. Serve uji hot in mugs and drink it.
Yes, we ate rattlesnake. My teacher doesn't like snake, but it turned out that snakes are more abundant and/or easier to catch than other local forms of meat (rabbit, deer).
A member of our class did the honors, catching a few snakes and skinning and gutting them before class. He said it was just like gutting a fish. Unfortunately, one snake bit itself as he was killing it, and we couldn't decide whether or not it was safe to eat that one. In the end, we decided it was probably safe - but we left it for the coyotes to enjoy since nobody wanted to take the risk.
Here's how we cooked the other one.
We got a fire going, and then we fetched dinner out of the fridge:
After a mishap or two with the snake sliding off the stick, I think someone tied it in a knot to keep it on there.
As the snake cooked, I entertained myself with plants. Specifically, mustard. The invasive black mustard you find everywhere has started to go to seed, and the seeds are good to use in - what else? - mustard! Apparently black mustard is much spicier than white or brown mustard, but you can reduce the amount of spice by adding hot water instead of cold to your mustard or by adding an acid like vinegar. I plan to figure something out.
It didn't take long before the snake was done. Here's what a serving looked like:
One of my classmates took a bite and said, "Tastes like chicken. No... really. It DOES taste like chicken."
And it did. Rather dry chicken with very little meat on it. Even though it was a big fat snake (with 9 rattles!), there wasn't very much to eat on it. In my view, it's not worth taking the life of a snake for the amount of meat you get from it.
The Kumeyaay would actually eat the bones too. They ground them into a fine powder and added them to their food. I guess, if you do it that way, a snake could provide a decent amount of food. Or, at least, you aren't wasting such a large percent of it.
I've been driving back and forth past this area that looks like it's wilderness - no houses, no nothing, no hiking trails - for months. And I constantly wonder what's in there. More specifically, I've been wondering if there are elder trees in there. Elder trees that will be laden with berries in about a month.
The other day, I was on my way home, caught in traffic, and just one exit from this very spot. I pulled off the freeway, headed for the woods, and found a parking spot next to an elder tree and a gap in the fence.
You wouldn't believe what I found!
Of course, there were elderflowers, which are medicinal for a number of purposes, although I usually think of them as an herb I'd use for fevers.
With that as my starting point, I started walking into the woods. There was no trail and it wasn't easy to walk through the dense plant cover.
When I stopped, I was on my way home from a garden I'm "garden-sitting" while its owner is on vacation, and part of my job involves eating the food. I'd just picked several cucumbers and a large amount of dill, hoping to make sour pickles when I got home. As I got in my car, I realized that I needed to get a few grape leaves for the pickles. But where can one get grape leaves?
I was pretty sure I'd seen a grape vine somewhere in my neighborhood, but as I entered the woods, I looked up and saw tons and tons of wild grapes. Problem solved!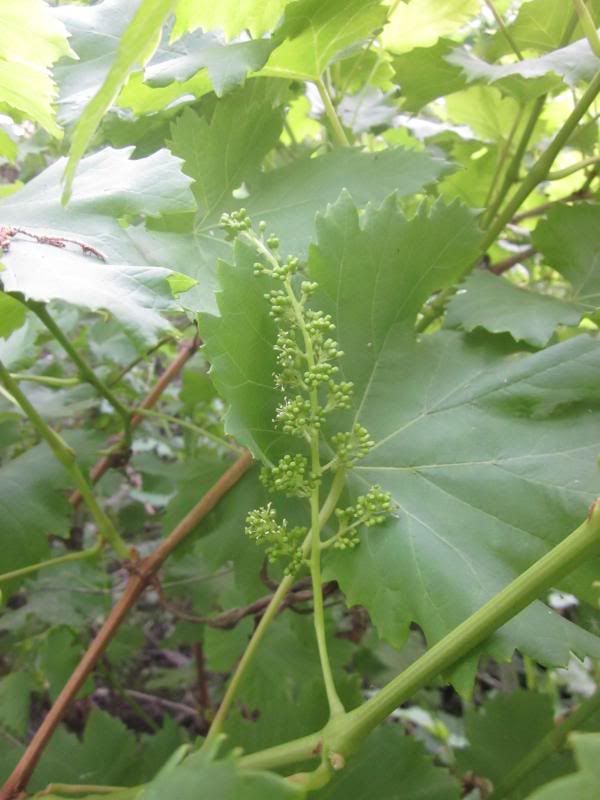 Wild grapes, with itty bitty little baby grapes growing. I am coming back when these are ripe!
I kept walking and I saw a plant I thought I recognized - but what was it doing growing wild?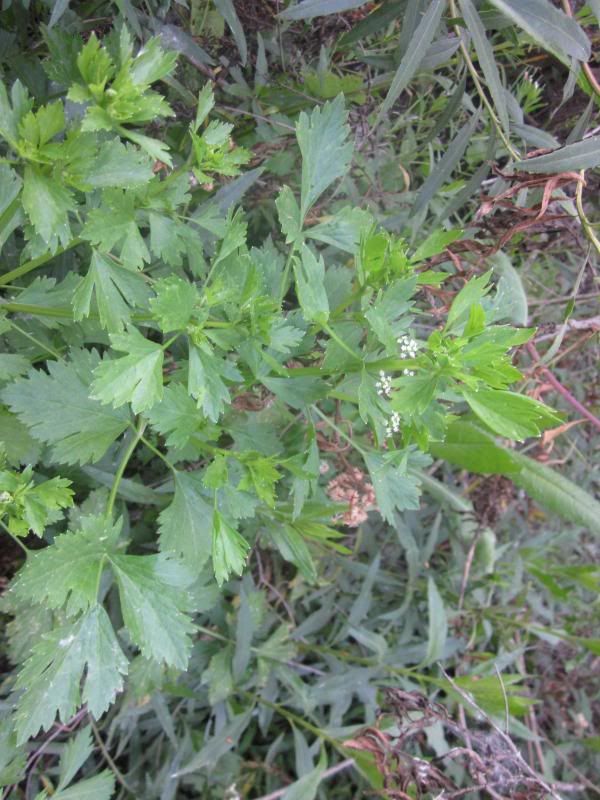 Do you know what it is? Maybe this stalk will look more familiar:
Celery! I couldn't believe what I was seeing, so I tasted a leaf. Yep, celery. (That was a risky move, but the only poisonous celery-relative around here is Poison Hemlock, and I carefully verified that this was NOT Poison Hemlock.)
Continuing along, I looked down and thought I saw another exciting plant. Plantain. Not the banana. It's Common Plantain, Plantago major, in the Plantain Family. I've been looking for this for AGES. It's medicinal and incredibly useful for a number of purposes, like helping with wounds and bruises. Despite my searching - typically in wet areas - I had never found this common weed. (It's not so common in San Diego, I guess.) But here it was! To doublecheck that it was really plantain, I bent down to see if it had any flowers. It had one, and from that I could verify it was plantain.
I also ran into a bunch of blackberries - although none had fruit (yet) - and I began looking for other common inhabitants of riparian environments. I was rewarded with a huge stand of mugwort (Artemisia douglasiana, a different species than the one typically sold commercially, A. vulgaris). Some of the plants were taller than me! I took a few home to dry them and make them into dream pillows. (Mugwort has a number of uses but one of them is to stimulate vivid dreams.)
Although it's in the Sunflower Family, I've never seen mugwort with any flowers. I believe it spreads by underground rhizome, dying off in the fall and growing back in the spring. This was the tallest mugwort I've ever seen. I recognize it by its leaf shape, the silver color of the underside of its leaves (which are green on top), and by its smell.
Unfortunately, my next "find" was a nasty invasive - arundo cane. This unwanted plant pest is used to make clarinet reeds, so it's not entirely useless, but it's so disruptive to riparian ecosystems around here that it's not worth having it even for that use. It's very, VERY hard to get rid of this plant because it has enormous underground roots that don't die when you burn or chop down the plant.
And last, I found another invasive - but at least this is one I can eliminate by eating it: Fennel. It's the same species of fennel you buy in the store, and it's all over the place. Yum. I like mine roasted in the oven with extra virgin olive oil and sea salt. And the seeds are medicinal - they aid your digestive system.
The only downside to visiting my new secret spot is that it hosts an enormous mosquito population. And they were all so excited to have delicious human blood (mine) that they had an absolute feast. I itch all over.
It's May 13 and I've just now recovered from paying the rent on May 1. I've earned enough to pay for my expenses for this month AND pay my June rent. Hooray!
There are a few cliches I can use for my financial situation. "When it rains, it pours," and "feast or famine" both come to mind. Because as of Friday I was wondering how I was going to take care of my immediate needs. Then a paycheck came. Sunday, I decided against buying any fruit at the farmers market since I've got oranges from a friend's tree and, while I had some cash, I didn't have much. Then a guy I'm garden-sitting for paid me in advance for the job. And today another paycheck came. And another two will show up in a few weeks and I'm writing a few articles that I'll get paid for.
If the government went by this month's income alone - which isn't exactly luxurious, but it's more than enough to keep me housed, fed, and clothed - I wouldn't qualify for food stamps. I sent them my entire 2012 tax return, and based on my average for the year, I qualify. But the money comes and goes in spurts. December's always rough - that's a bad time to be a freelance journalist unless your specialty is writing Year-in-Review columns and top 10 lists.
Nowadays they call people "food insecure" instead of "hungry." In my case, it's a better term. I've never, ever gone without a meal. But there are times of the month when I literally don't have a penny to spend on food or anything else. Hopefully those times are behind me, but it's been going on for five or six months now. And the reason I've never gone hungry or even without a balanced, nutritious diet has a lot to do with my ability to grow and forage my food - and my friends' abilities to grow food too, since they've really stepped up and helped out many times.
But the funny thing about being broke is that you aren't just "food insecure." You're EVERYTHING insecure. I've been rent insecure, gas insecure, prescription drug insecure, cat food insecure, shoe insecure, kids' birthday present insecure... even underwear secure.
Food freaking grows on trees. Nothing else grows on trees. Rent, gas, shoes, underwear... that's all stuff I can't get for free from a friend's garden. There are a few things I can do for free all by myself, besides obtain food. I can cut my own hair, for instance. And I do.
During times like the last two weeks, when I've been near penniless and waiting for paychecks to appear in the mail, the food stamps have been a huge help. HUGE help. And, as I've said, they open doors to even more help, like the 10% discount my food co-op gives to anyone purchasing with food stamps.
But it's also funny how we help our poor with food and nearly nothing else, especially when food isn't even the biggest expense. I know there's Section 8 housing somewhere around here. I don't know if I'd qualify for it. I looked into it when I first graduated from college and I was working in DC. I made too much money to qualify for it - AND the rent was more than I could afford anyway.
In theory, we have public transportation in San Diego. It works great if you don't mind spending a few extra hours getting to where you need to go, especially if you never need to carry anything heavy or transport more than you can hold with two hands (you know, like groceries). I lived without a car in northern Virginia (near DC) and it was difficult even though that area has some of the best public trans in the nation. As a migraine sufferer, car-free living was a huge mess. You can be out and get a migraine, and then you have to wait for the bus. And a brightly lit, noisy, shaky bus is hell if you've got a migraine.
What about healthcare? Well, I looked into it. There is Medicaid but the only way I could qualify is by getting pregnant. No thanks. There was another program listed but then the link to apply was a box you couldn't click. After some searching, I found another program for low income healthcare. I couldn't find anything about eligibility so then I just looked for how to apply. You apply for Medicaid and get rejected and then they submit your application for this other program. Totally intuitive... not.
Even though the application is on the same website - using the same account name and password - as where I applied for food stamps, I had to re-enter every last bit of information about myself to submit the Medicaid application. I haven't heard anything back yet on that one.
The other thing about the food stamps is that it doesn't cover eating out. I mean, they only give me a whopping $70/month, so it's not as if I can afford to eat out on that anyway. And even if I were spending my own money, I can't really afford to eat out. But only eating food you cook at home - strictly, 100% of the time - is pretty constricting.
Right now I'm enjoying a sweet potato curry I made. I've got fresh-baked bread. A batch of sauerkraut will be ready soon. I'm no slouch in the kitchen. But, my god, it's a huge pain to never eat out. It means you've gotta be home at meal times every single day unless you pack food to take with you.
I pack food to take with me twice a week when I go to class, since the class is far from home and I'm out for about 5 hours. Usually, I make pizza or burritos - all from scratch - to take with me. But today I was out for a while and I gave in and spent a few bucks on two salads and a chickpea curry at the organic food co-op. It's great food for the price, but that's still more expensive than you could afford on food stamps, even if food stamps did cover it.
A cheaper and more affordable quick option are the $2.50 bean burritos I get sometimes. And those aren't covered by food stamps either. But, strangely, a $1 to-go cup of coffee is covered. And that's pretty weird, given that my food stamp benefits provide less than $1 per meal. So I guess someone in charge thinks that I'm having a cup of coffee as a meal?
Pot Luck is an open thread...

For lunch today, I made homemade burritos. And they were so good, I decided to share the recipe. Even my cat Molly thinks they're great:

I'm taking a bite from one end, and Molly just finished tasting the other. She's licking her lips.
I already had nopales (prickly pear pads) cooked and ready to add into food. Ditto to some pinto beans that I cooked last night. So the rest was easy.
For the refried beans:
Ingredients

A few cups of beans, cooked, including water or the liquid the beans were cooked in

1 onion, diced

2 cloves garlic, minced

About 1 1/2 cups nopales, cooked

2 tbsp olive oil

Salt, to taste

Cumin, to taste

Coriander, to taste

Pinch cloves

2 tbsp dried nettles

Pinch cayenne
In a saucepan, began heating up the olive oil. When it's hot, add the onion. Saute til translucent (about 5 min). Add garlic. Saute for about 1 min. Add cumin. Now add the beans, including some of the liquid that the beans were cooked in - or just water. The goal is to be able to mush up the beans with enough liquid that they've got a nice consistency. If you add too much water, you'll have to let it evaporate off. If you don't add enough, just add more as the beans cook.
For a good batch of refried beans, you've already got the essentials. To further season it, add a tiny bit of cloves (less than 1/4 tsp or you'll regret it), some coriander (as much as you want), and some cayenne. I add just a tiny pinch of cayenne, less than 1/4 tsp, so that I can't taste it. I do that because cayenne is good for you but I don't like it. You can hide a bit of cayenne pretty well in a big pot of beans. But of course, if you like your beans hot, add more cayenne. And, add salt to taste.
The last two items I added were gathered wild near where I live: nettles and nopales. I toss them in because they are crazy good for you. And they taste pretty good. But they are by no means necessary for good flavor.
Once the beans are in the pot and cooking, you've got the bulk of the work done. Then I made tortillas, which are ridiculously easy if you've got the right equipment - some organic corn masa and a tortilla press. To make the tortillas, simply mix about 1 c. warm water with 1 1/2 c. masa and a bit of salt, no more than 1/2 tsp. Don't forget the salt - I've done that and it really ruins the tortillas.
Get this all mixed up - no need to knead like with bread, just get it well-mixed. Adjust the moisture by adding more water or masa as needed. For each tortilla, grab a handful of dough and roll it into a ball. Then smush it in a tortilla press. (If you don't have one, don't bother attempting to do this with a rolling pin. Instead, just smush it under something flat and heavy.) I use wax paper to keep it from sticking to the tortilla press.
Heat up a cast iron or stainless steel pan until a drop of water tossed in it sizzles. Cook each tortilla for 30 seconds per side. And that's it! Masa, salt, water, and cook for 60 seconds each! So easy!
For the burritos, I added my beans to a tortilla and topped them with avocado and jack cheese.
Wildflower season here has been like a play in three acts. Each month, new wildflowers pop up and others die. I decided to take a trip to Iron Mountain yesterday, and I was rewarded for my efforts with a bunch of interesting plants that I don't run into on the trails I usually hike.
Now the question is: What do you do with manzanita berries? You can make cider or jelly with them. If you've got a good recipe, I'm all ears.
Not long after I set out, I ran into some Showy Penstemon, Penstemon spectabilis, a beauty in the Plantain family:
And a new (to me) type of sunflower was blooming. Usually I see Encelia californica, which has a brown center, or San Diego Sunflower, which has leaves that look different from this one: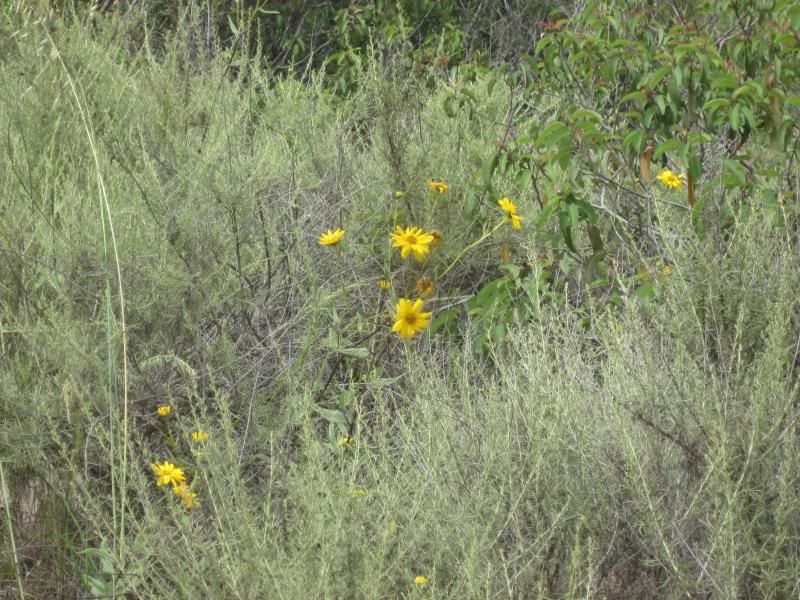 There was something that was producing fruit that did not look ripe yet. I wondered if perhaps it was Ceanothus, since that's a plant that is very common and it bloomed in mid-February through March. I finally got some confirmation when I found a plant with both flowers and fruit. You'll notice there are two different species - they've got different leaves but similar fruits.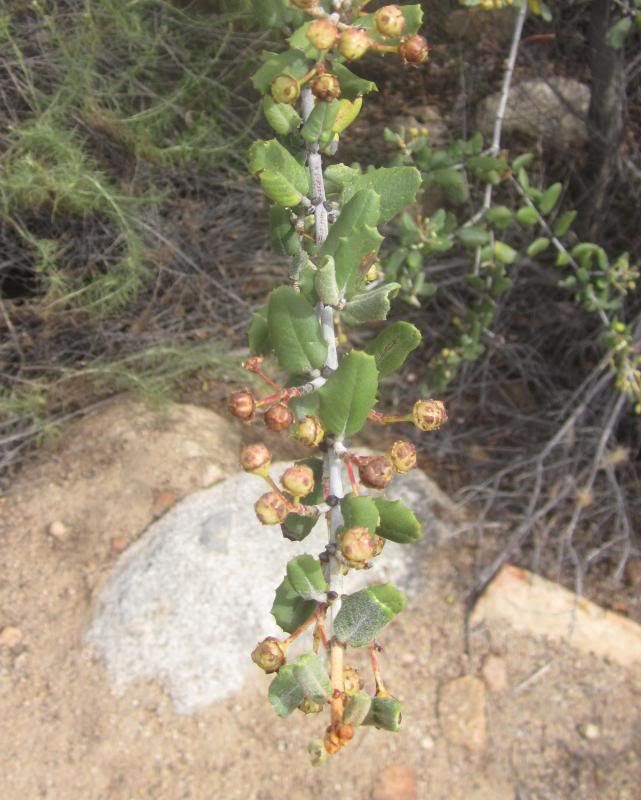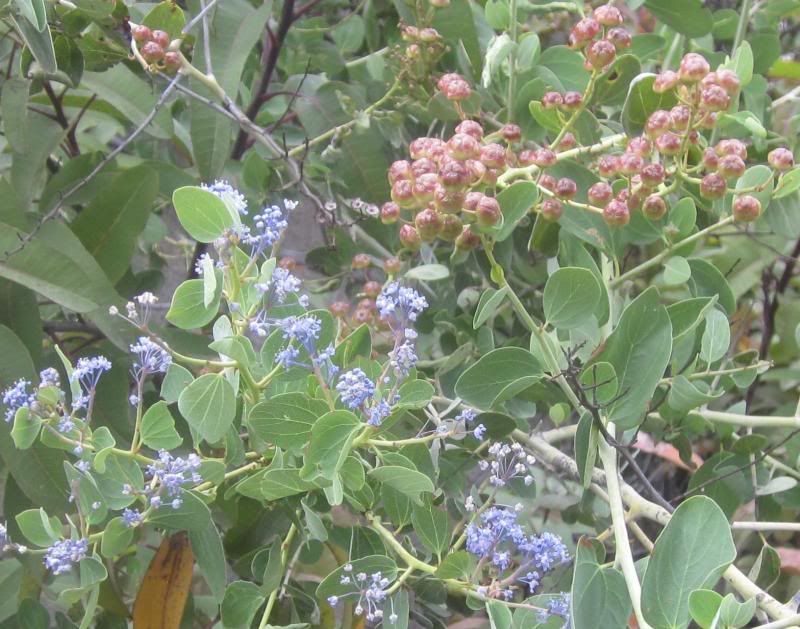 Aha! Flowers and fruit on the same plant. This is the species with leaves that have entire (i.e. smooth) margins

Flower close-up. Definitely Ceanothus
Next up, Wide-Throat Monkeyflower, Mimulus brevipes, which is in the Lopseed Family (Phrymaceae). Gorgeous!
Look at how tiny and unassuming it is. You could step on it!
I can only guess that this next one is an Indian Pink, Silene laciniata. I've been looking for it for a while, and it's simply beautiful. Unfortunately, I took really lousy pictures of it, so this is the best I've got: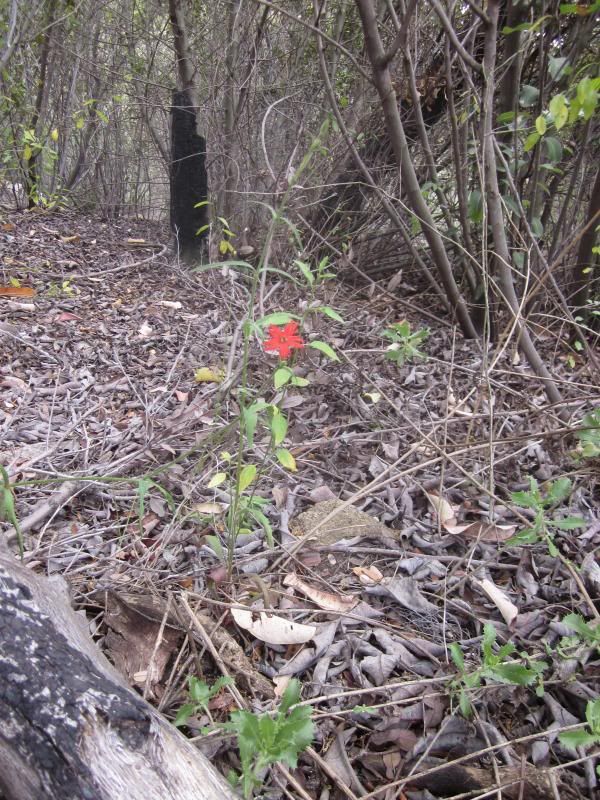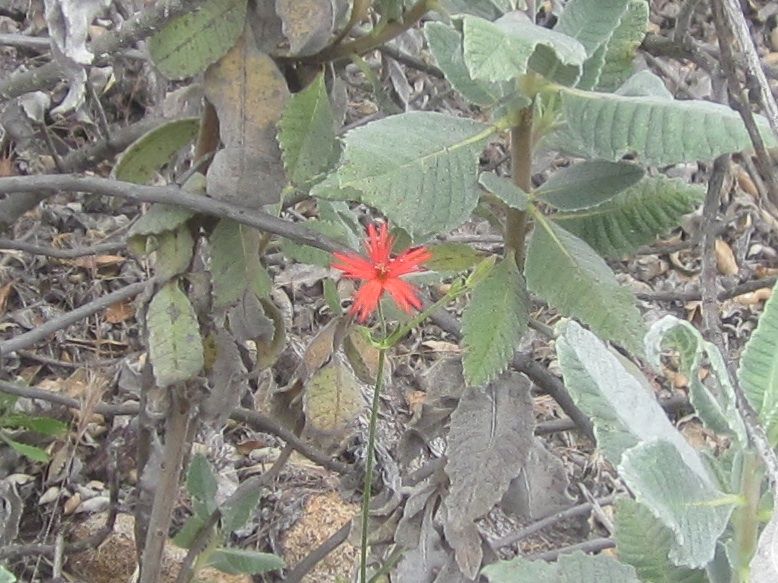 Next I came to some Manzanita. Its name is Spanish for "Little Apple," and the little apples it produces are edible. Manzanitas are in the Heath family and there are no fewer than seven species of them in San Diego. Manzanitas are in the genus Arctostaphylos and one way to recognize them is by their red wood:
However, an even better way to be sure you're looking at a Manzanita is if you can see their pinkish bell-shaped flowers - but the season for that has past. Now they've all got fruit.
The Manzanita I saw yesterday was probably Eastwood Manzanita, A. glandulosa. I'm guessing that because it's common and it has ovate green-grey leaves. Most other species are somewhat rare or are only found at higher altitudes.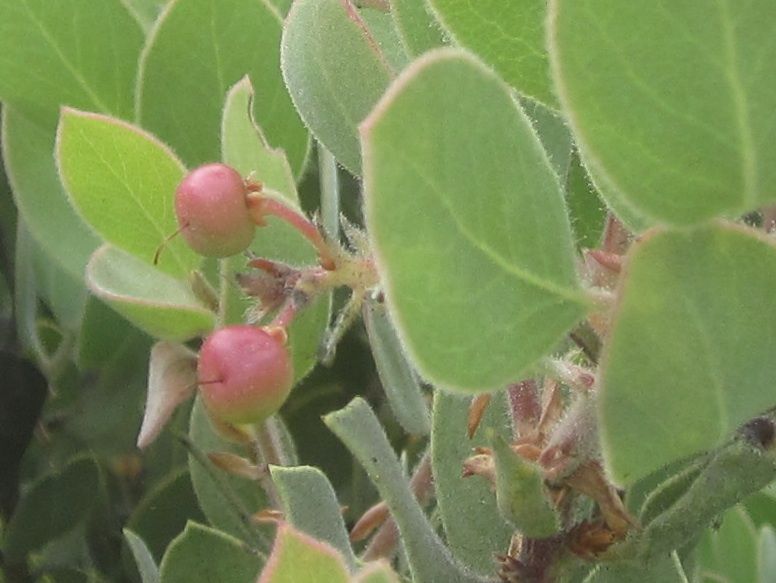 A Manzanita with its "little apples"
Here's another interesting one I found. The leaves and flowers remind me of clematis, but it's not similar enough that I'd confidently say that's what it is. Besides, it looked more like a bush than a vine.
Next, I ran into some Holly-Leaf Cherry, Prunus ilicifolia. My guidebook says "Cherries large, +/- palatable."

Flowers. You can tell it's in the Rose family.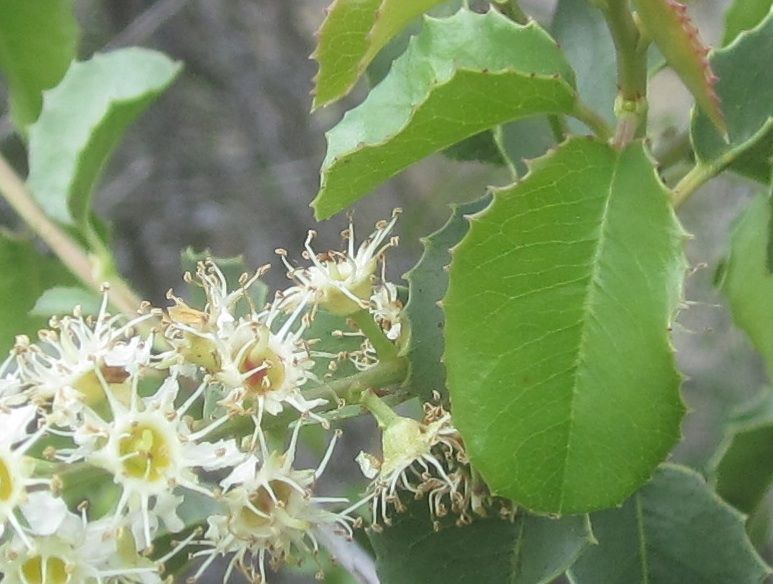 Here you can see the leaves for which it is named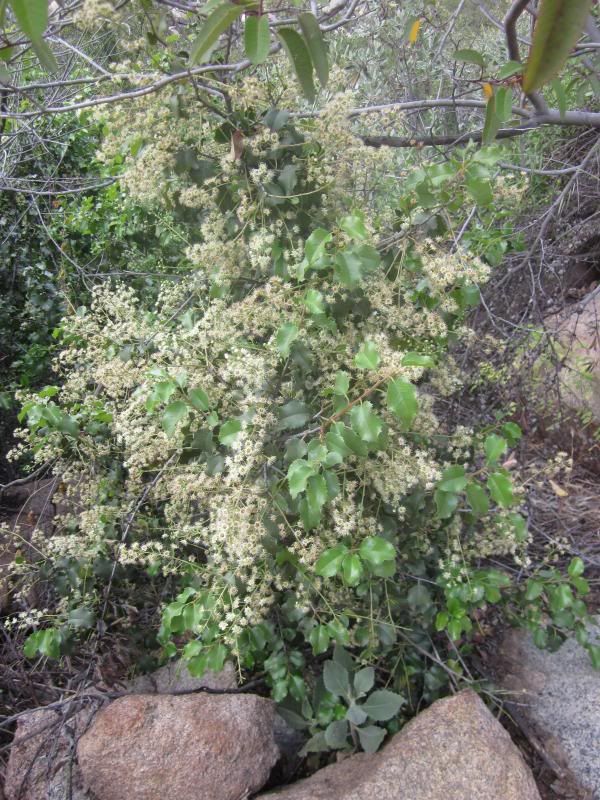 Think I'll come back here when the fruit's ready.
Then I found a few that I haven't identified yet: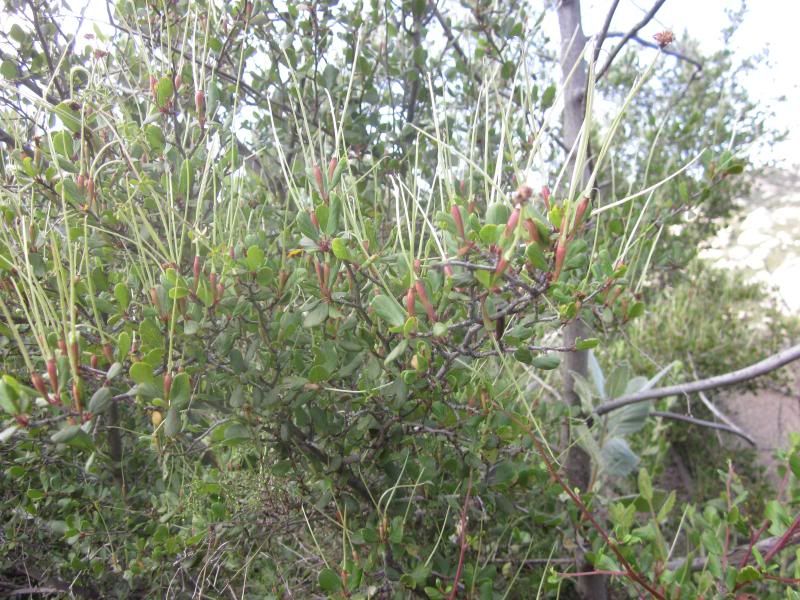 Something lovely in the Daisy family: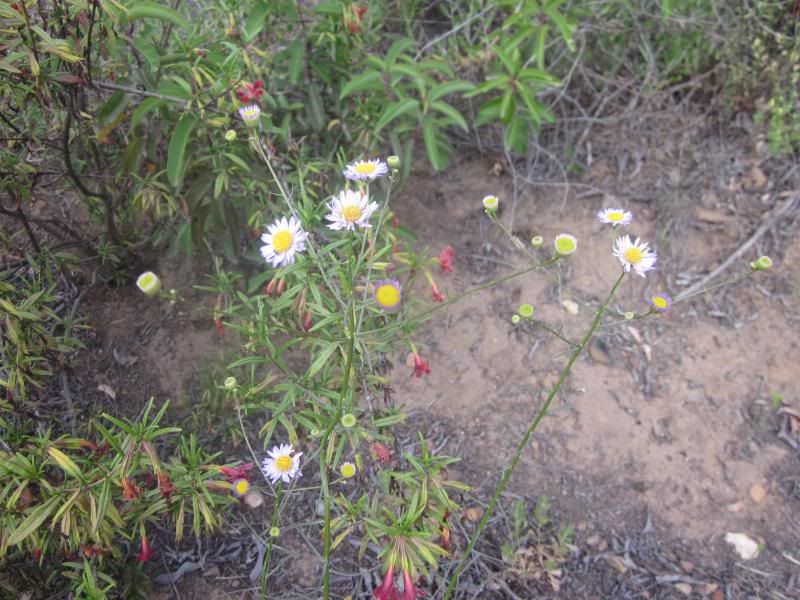 The red flowers behind it are Monkeyflowers
At the very end of my hike, I saw a Laurel Sumac, Malosma laurina, getting ready to bloom. There are so many of these trees all over that when they all bloom, we'll have flowers everywhere. This was the first one I saw starting to flower this year.
Organic Consumers Association